Now that the glow of mature age studenting has all but faded, it really does not take very much for me to bail on attending class. I'm having flashbacks of 19 year old me, urging others to bail on Research Methods and Statistics in order to split a bowl of fries with me at Monash Uni Caulfield's one eatery. Times were tough. Pickings were slim.
So, when it came down to eating treats with friends vs Nutrition class (ironic, no?), well, you know me well enough to know the choices I made that day were inevitable, beyond my control.
The treat eatery of choice was Sugardough bakery, on Lygon Street. A place I have wondered about ever since I heard the name. Sugardough. Doesn't it evoke all kinds of wonderful? Fairy floss flavoured bread and the like? That's what I'm getting. Anyway!
I knew what I wanted before I even set my gaze upon the wide array. But I still had a good look at what was on offer. Basically, Sugardough is heaven. From sweets to savouries, donuts to pies, breakfasts and lunches. The pumpkin pie is vegan, and I also spotted some kind of pistachio iced cake, as well as some raspberry apple number (INVOLVING SILVER SPARKLES!) but I had my mind set on the Sunshine Muffin, a muffin that I had heard much of and longed for frequently. That and a soy chai latte meant I had absolutely no regrets about skipping school for snacking.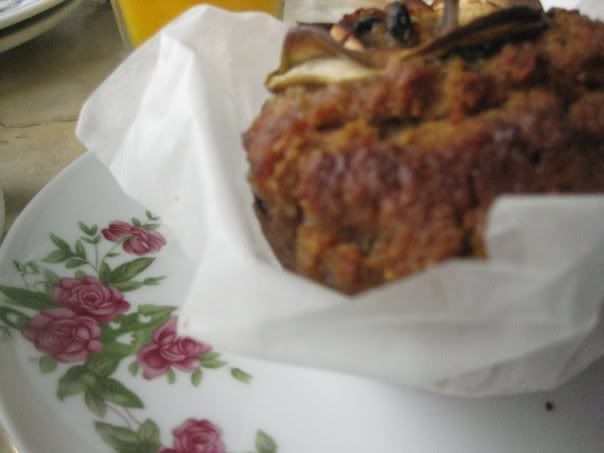 What was probably the ugliest muffin I've ever witnessed, was brought out on a beautiful plate, counterbalanced. It also had a spoon stabbed through it's guts, officially the first muffin I've ever had served with cutlery! A dense muffin, sugary crusty muffin top, filled with such an amalgamation of dried fruits that you wouldn't possibly believe it. Sultanas, currants, dried apple, apricots and more. Now you would think that all these elements would be vying for dominance, but no, they melt into each other and deliver some delicious muffin flavour. The texture is good, well baked throughout and very filling. I had to take it home in a napkin for after snacks.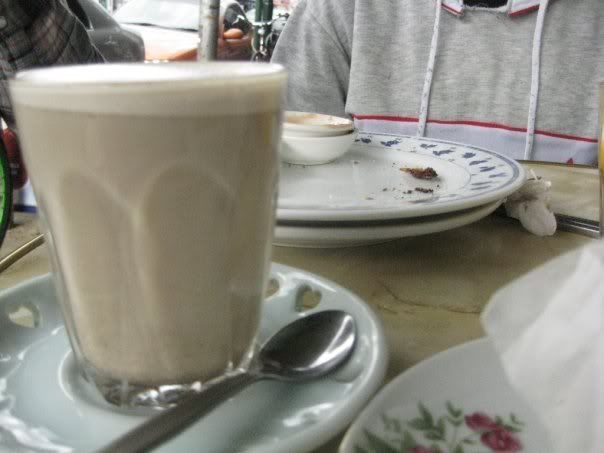 My chai was also a winner. Well spiced.
Huge, massive fan of the plateage. I have a fetish for florals and heart cut outs. How did they know?
Sugardough also carry standard breads, baguettes and loaves that all look amazingly crusty and chewy.....aaaaannnd since I'm moving to Brunswick in, oh, exactly twenty days, I'll be able to let you know a whole lot more about those products in connection with my upper digestive tract real soon.
Sugardough Bakery
163 Lygon Street
Brunswick East