So due to the thoroughly inconsiderate scheduling of my university, I was due to face three exams mere days after my return from what was supposed to be some variety of relaxing 'holiday' in Hobart. I bitched and moaned, but what could I do? Ten kilograms of textbook ladden hand luggage later, we were in Hobart.
Knowing that we were to be largely confined to the hotel room, we did choose quite the grand affair - the Executive Suite, where everything is big and fat executive sized, from the plasma tv, to the king size bed, and hell, they even put a spa in our bedroom! Before all that, however, we had to find ourselves some lunch!
With the adeptness of feeble minded undifferentiated stem cells (see, I did end up doing study!) we managed to wander over to the wrong side of town. Packed full of bogans and craptastic cafes, I did comment to Rocket that perhaps we should have visited his hometown of Ballarat instead of spending all that airfare money. Eventually we stumbled upon Phoenix Cafe, which listed a handful of vegetarian options on its menu. I sent Rocket in to explain the concept of veganism, and a mere ten minutes later he returned.
We were then presented with the vegetarian noodles and the vegetarian laksa, see here.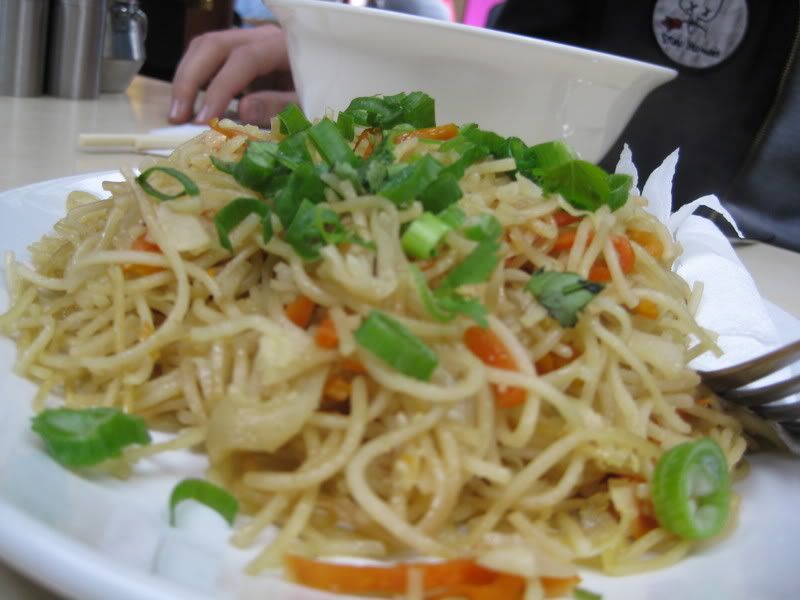 and here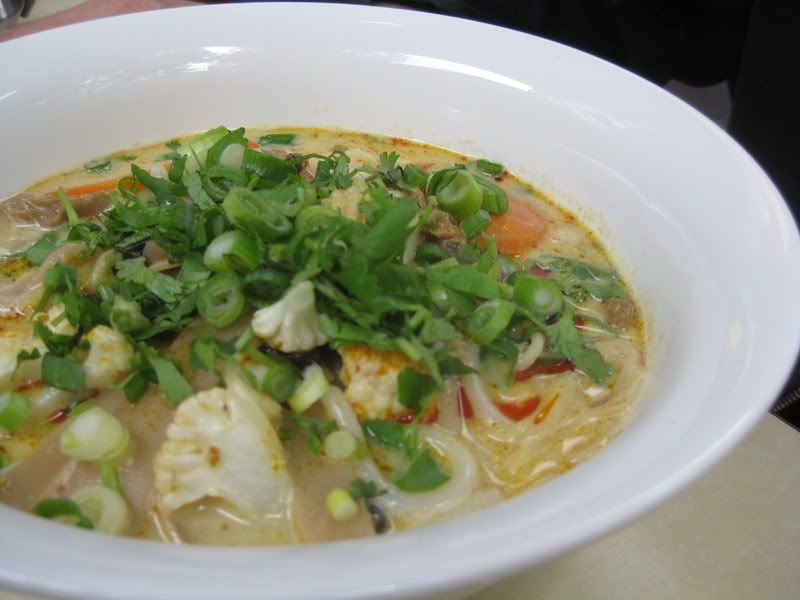 I'm quite sure that the noodles were of the Maggi variety, with some carrot strips and spring onion decor, but the laksa was actually quite decent, apart from the getting to the bottom of the bowl and finding a piece of chicken factor, but it happens. As responsible vegans, we reported this fact to the amazingly kind owner, who pressed a $5 note into our hands and promised that if she had been in charge of the kitchen at the time this WOULD NEVER HAVE HAPPENED.
Phoenix Cafe47 Elizabeth StHobart
Continuing from lunch, was a visit to the Safeway (sorry, Woolworths) to stock up on unmentionables (okay, lots and lots of shitty junk food that I wouldn't normally eat unless I was on holiday or studying, or both) which resulted in oven baked frozen chips for dinner that night. Nutrition plus!
The next day, approximately brunch o'clock, we found ourselves wandering the lower end of the Salamanca markets, where we just happened upon (I planned it, okay) a truck selling delicious fresh breads and a selection of vegetarian pies, two of which were vegan!
Lentil Sheperds pie
and a Madras pie! ...as modelled by that hottie Rocket (available for catalogues and runway).
The lentil shep pie was definitely the pick of the two, and I'm getting a little upset looking at the picture of it, not only because I may never get to sample it again, but also I can see something in the background of the picture that says "nondairy soy whip" and even though I have no idea what that means or what it is, I didn't get to try it! Bummed. Out.
Approximately six hours of nap related studying later, we made our way to Siren's Restaurant, which I've heard is the equivalent to Melbourne's Shakahari, only in Hobart.
Walking in was just that little bit intimidating, the low lighting, fancy waiters, double ($$) digit menu and the fact that we were the only kids there meant that my flanny, skinny leg jeans and vans sneakers didn't quite cut the most mature dining picture that there ever was. No matter, we were there for the food, not a fashion show. The menu only had a small selection of vegan options, and due to the price, we decided to skip the entree and share a dessert instead.
Apologies in advance for the terrible photography, I was somewhat reluctant to completely f**k with the ambience of the place by blinding other diners with my photography, so I kept the flash off.
I selected the smoked tofu dish
and Rocket, the millet croquettes teamed with a fancy sauce that I forget, and a preserved lemon and rocket salad.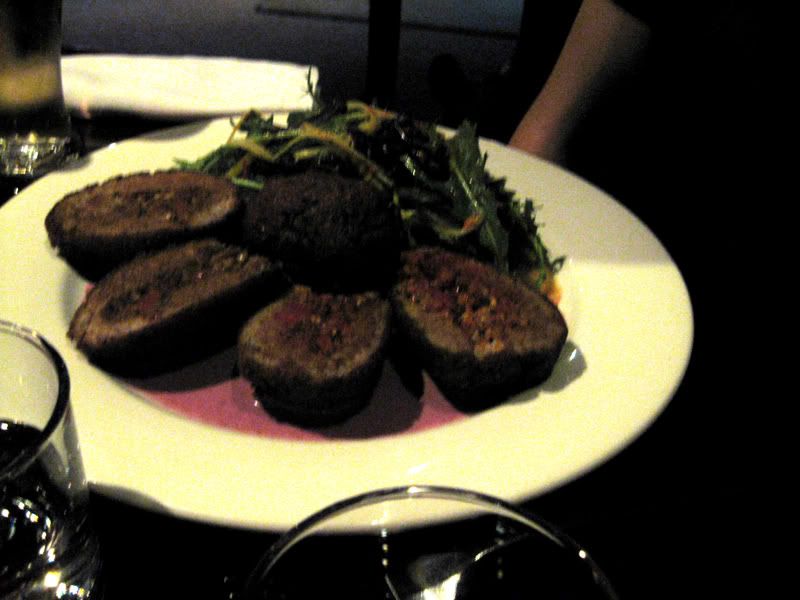 Oh my goodness were these dishes completely out of this world amazing! From the presentation to the quality of ingredients to the overall taste, they were both spectacular! The tofu was seared, complete with grill marks and served on a bed of steamed broccolini (one of my favourite veggies), with a very umani-ish type sauce, salty and pungent but so delicious. Rocket's croquettes (rhyme!) were beyond description. Something I could never even hope to conceptualise, let alone cook, they were so well textured and the salad was the perfect accompaniment.
Our waiter, upon noticing we were vegan, offered to put aside a slice of the dark chocolate mousse cake for us, and who were we to say no to such a generous offer?
My friends, that cake was the best sweet I've eaten since Vegetarian Orgasm shut its doors, if not better. Coconutty crumbly cookie base topped with thick, oh so rich dark chocolate mousse that simply melts in your mouth. I'm going to use a whole lot of words that are totally not in my vocabulary right now: divine, heavenly, celestial. That's all I can come up with. The sauce you see in the picture was not caramel, as I'd immediately imagined, but a floral jasminey type reduction. I probably would have preferred caramel, but we cant have everything in this life now, can we? Despite that, oh what a cake! Seriously guys, ticket to Hobart. Book it. Eat cake.
Then we staggered home and spa'd it up whilst watching Harry Potter.
Sirens6 Victoria StreetHobart
Did you know most everything is shut on Sundays in Hobart? Well it is. So it was an assortment of cereal, mandarins and lady grey that kept me going all day, not blogworthy. The Internet pointed us towards a nearby Indian place, Annapurna Indian Restaurant, that was open that evening, so we wandered down quite early and got seated.
It's a lovely looking restaurant in an A1 location, so I guess thats why you pay top dollar for Indian food, which is usually rather cheap in Melbourne.
We started off with onion bhaji entree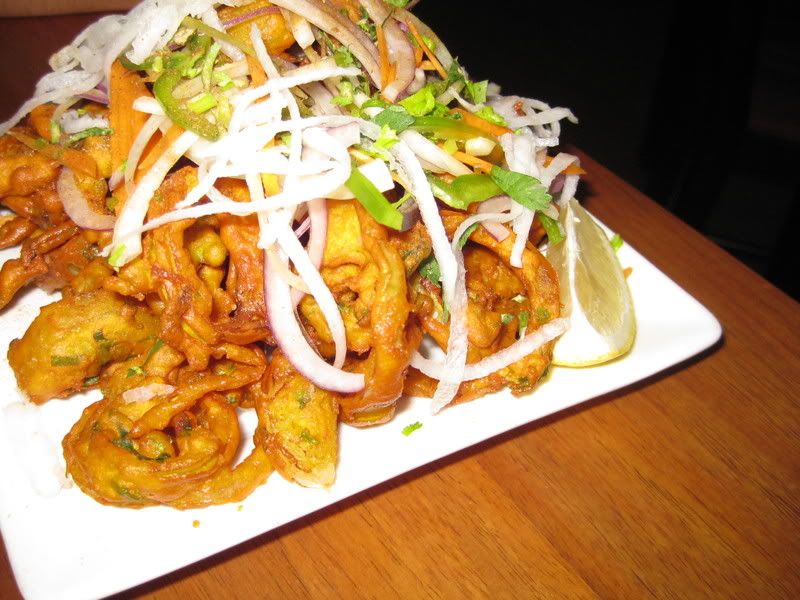 This was really a great dish! Despite the sheer deepfriededness of it, the onion rings were actually really light and fresh tasting, probably due to the lemon juice I doused them with. Plenty to share, thank christ, and very filling, we probably should have just gotten one curry to share....but we didn't.
We got two. An eggplant one..and a pumpkin...one....remind me to take notes next time.
I'm not the world's biggest Indian style curry fan, but these were both fairly decent, if not a bit samey (or maybe I just cant tell the difference between pumpkin and eggplant?). Massive serves though, and this did end up being Rocket's breakfast the next day, even then there was too much to eat!
The star of the show was most certainly the garlic naan.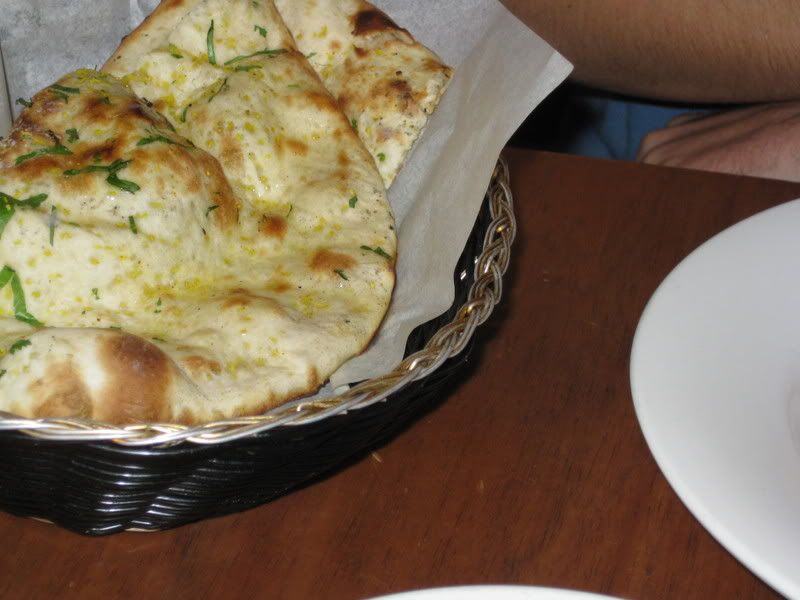 Just yum, is all I can say really. Soft, chewy, fresh. The deity of all Indian style breads. Yes.
Annapurna Indian Restaurant93 Salamanca PlaceHobart
All in all, Hobart surprised me with its vegan friendliness, and I'm sure I would have been even more joyous had I had more time to wander around and find other places. But I'll be back, dont you worry. I'll be back.