Lord of The Fries
Oh we all love it. Whether it be a snacky lunch eaten standing up, eyeing off the benches in proximity, or a post midnight chips and mini burgers feast that never tasted so good, eaten slightly slumped in a tram/taxi/train whatevs.
And they now have lettuce in their very sneakily vegetarian burgers too. Wow!
Here are some chips I ate in one of those 2am situations.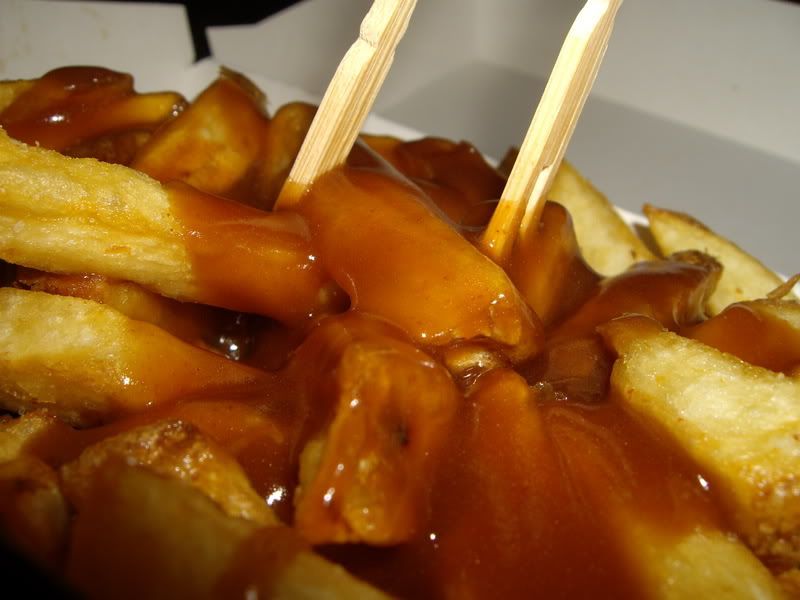 Usually I'm not the biggest fan of LOTF fries. You see, they are based on the Belgium/Amsterdam version of fries (or frites) which is basically fries in a cone, random toppings (from gravy, cheese, satay, etc.) and teensy scooping forks. The inherent problem is that I have fortunately experienced the real thing in Amsterdam, and they were literally genuinely amazing. Also in Amsterdam every "fritehaus" had the option of mustard...or
moutarde
..alas LOTF offer no such option, so they lose major points. However, on this late evening, LOTF F's were deliciously pleasing, crisp, adorned in gravy and also upsized free of charge.
Their burgers are good too. Plain but amazing. And they have mustard, which I do love.

Lord Of The Fries
Corner of Elizabeth and Flinders St
Melbourne City.
Cafe Rosamond
Cafe Rosamond is a cute little package nestled off Smith Street, Fitzroy. Contained within this package there are (usually) amazing beans. Rich and tomatoey, wonderful served alongside their gloriously decadent herby avocado salad and chewy sourdough bread. However, on the occasion that my camera and I were both dining at Cafe Rosamond they had sadly sold all their beans, every last one!
I consumed a baguette instead. It had avocado within its realms, so I was sated. And nice crunchy, sharp, pointy, occasionally ouchy bread.
Camera and I will return at a later date for beans. But you dont need photos to prove their incredibleness. Go eat them this weekend!
Cafe Rosamond
Rear 191 Smith St
Fitzroy
Gaylord Indian Restaurant
I am much too grown up to say anything about the name. And it is definitely not the reason that this restaurant appealed to me, no way, never, at all. Nah uh.
The restaurant is enormously, charmingly garish and the menu, as with most Indian places, offers a vast range of curries to choose from.
As this was quite some time ago, I cant remember exactly what was eaten, though there was some eggplant, and also something else with lentils, and possibly the best roti/paratha/naan I have ever eaten. In fact, chuck the curries into that mix as well. They were spectacularly delicious, and you can choose your heat level as well, which is comforting.
Best curries and breads this side of Chinatown. At Gaylord. Yep.
Dregs.
Gaylord
4 Tattersalls Lane
Chinatown, Melbourne