So a bunch of vegan nerds (and by nerd, I'm really only including myself) decided to get together and partake in the consumption of shared foods. Nerdlier still (once again, just me) this was to be an internets sponsored event, as we had all "met" on the
Post Punk Kitchen
forum.
Boy, am I glad I dragged the dog, my housemate Rebecca, a manual car and half the contents of the kitchen to Marybyrnong!
This is what I got in return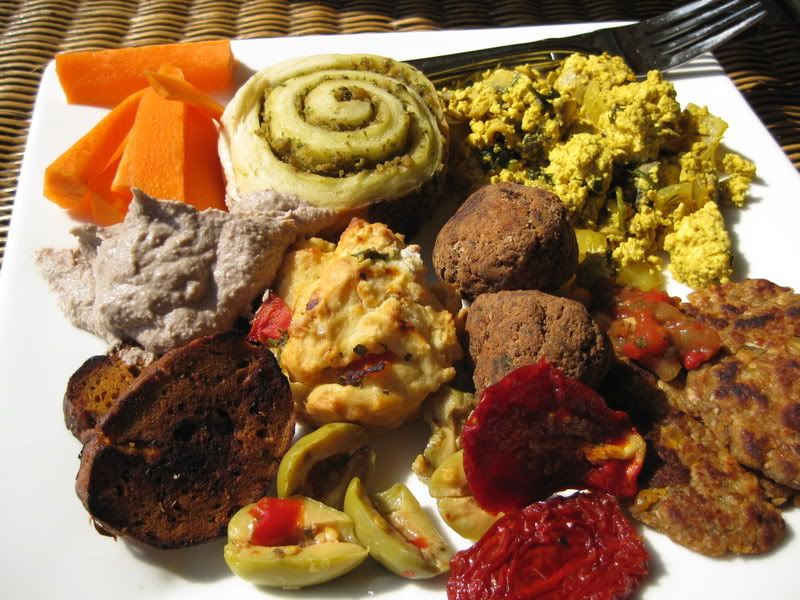 What you've got there is some chickpea cutlets, pesto scroll, sundried tomato and basil muffin, scrambled tofu,
soy bombs
, seitan sausage, mushroom and walnut pate and some sundried olivey deliciousness.
Present and accounted for (in my belly) but not photographed were four (yes, 1..2..3...4!) different types of dumplings - differently shaped too (small things amuse..yes you know)! Pancakes with fresh strawberries and maple syrup and oatmeal raisin cookies rounded off perhaps the finest brunch in my existence.
To force myself away from foodcentrism just slightly, I cannot sing enough praises for the brilliant sunny weather bestowed upon us that day for a little alfresco dining, and more importantly the unparalleled loveliness of the other vegan ladies who attended the brunch! It was so nice to be able to chat between bites of food and give my tummy a rest, and to find others who get so maniacally excited over farmer's markets and talking about their own dogs, well, there was definitely some kinship there.
And thankyou
Emily
for your gracious hosting duties!
We'll be brunching it up at my place next, on the 3rd of May. If you're interested in sampling the cooking of others and also showing off your own cooking skills, leave me a message with your email address and we'll see what I have to say about that. I'll say yes, you can come. That's what.