Food cravings are pretty much what gets me up in the morning. The thought of the food ahead spurs me on, urging me through the dull in-between-eating moments, keeping the smile on my face and the stride in my walk. On topic, Sundays at work can be devestatingly boring. Planning my meal for the night is my one salvation, along with looking at pictures of puppies and spinng around in my chair.
Last Sunday was a Thai kinda mood day, and since I haven't cooked much Thai food I immediately thought to go out for dinner. Then I realised upon the dire state of my wallet, and my plans crumbled.
Could I cook Thai food?
Yes. I could. And my horizons have broadened once more.
Thai green curry with soy curls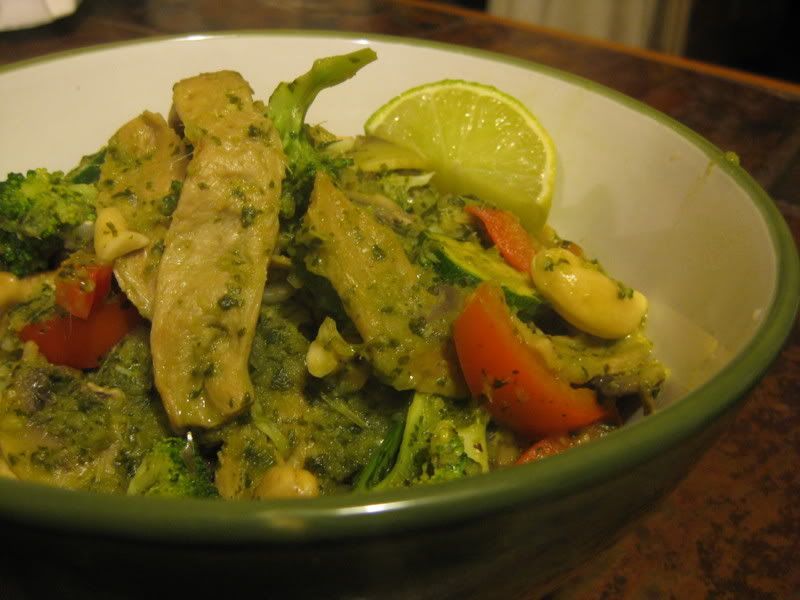 I found this recipe from a most unlikely source
About.com
which I'd only ever used before to fuel my varying obsessions with serial killers and balloon animals.
It included making the paste from scratch, which was immensley appealing to both myself and my buddy Thermomix, which wizzed up the most beautiful green curry paste in a matter of seconds, nay, microseconds. No, scratch that, it was definitely seconds. You could easily do the same in your blender though!
The paste went a bit like this: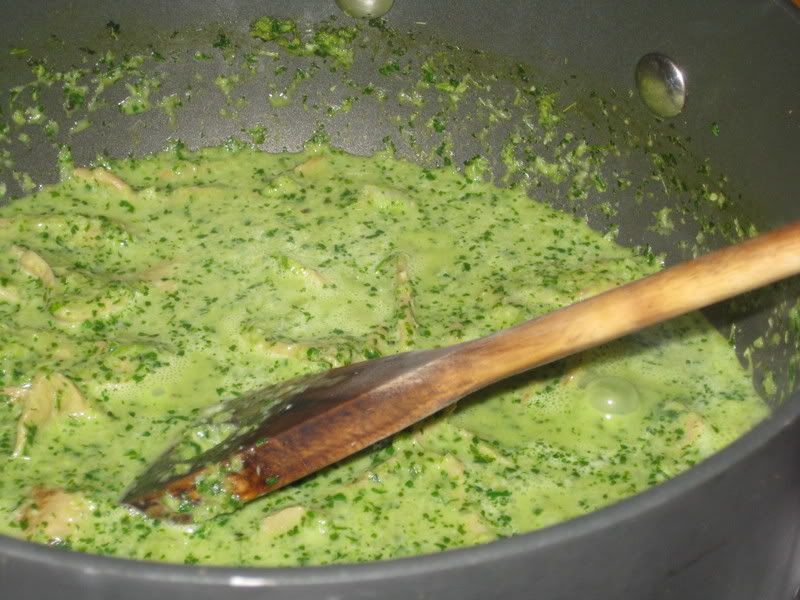 1 stalk lemongrass, sliced finely
2 tsp. ground coriander seeds
1 tsp. brown sugar (optional)
1-3 green chillies, deseeded
1 small onion
2 cloves garlic
1 thumb-size piece galangal (or ginger), peeled and sliced
2-3 kaffir lime leaves (fresh, frozen, or dried), snipped into strips or small pieces with scissors
1 cup (or 1 bunch) fresh coriander leaves and stems
3 tsp. dark soy sauce (substitute 1 Tbsp. wheat-free soy sauce for gluten-free diets)
And the rest?
2-3 kaffir lime leaves
1 can coconut milk
1 package firm tofu cut into bite-size pieces (for gluten-free diets), OR 1 package wheat gluten "chicken" cutlets
1 red bell pepper
1 cup snow peas
1 cup fresh holy (or sweet) basil, chopped roughly
1 small yam or sweet potato, cubed
3 Tbsp. oil for frying
optional: other vegetables of your choice, such as carrots, broccoli, cauliflower, etc...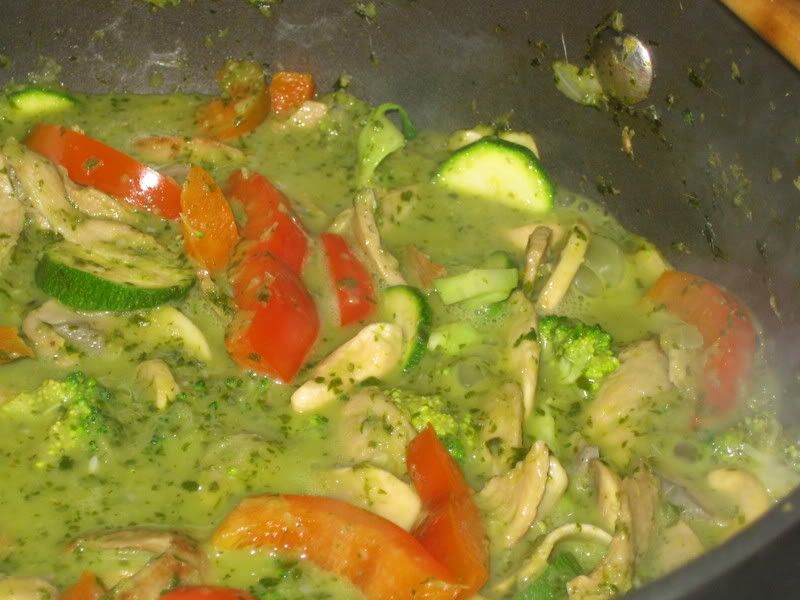 To make the green curry paste, place all paste ingredients in a food processor or blender. Add a little of the coconut milk (enough to keep the blades going). Process well.
Place oil in wok or deep frying pan. Turn heat on medium-high and add paste.
Stir fry until fragrant (about 1 minute), then add coconut milk.
Add wheat gluten or tofu and stir until everything is well mixed.
Add kaffir lime leaves and cover.
Turn the heat down to medium-low and allow to simmer, stirring occasionally for about 10 minutes.
Add bell pepper and yam/sweet potato.
Cover and cook another 10 min.
Finally, add snow peas, stir, and continue cooking for 2-4 minutes.
Do a taste test for salt and spice. If not salty enough, add up to 2 Tbsp. more soy sauce or sea salt. If too salty, add a little fresh lime juice. If too spicy, add more coconut milk until desired mildness is reached.
Accompany with your grain of choice.
Things I did differently:
Well I had a hell of a time finding kaffir lime leaves at the local supie, in that I didnt find them at all, so I subbed lime juice....because, well, lime connection!
Whilst I was making the curry paste I rehydrated about a cup of soy curls (I bought mine from Minh Phat supermarket, just off Victoria St, Richmond) with some chilli sauce and Massel "chicken" stock. This I used instead of wheat gluten or tofu as called for in the recipe.
I fried them up prior to adding the curry paste.
Added zucchini, red capsicums, broccoli and mushrooms as my veggies of choice. Chickpeas and cashews too. Garnished with a pretty lime slice.
Served the whole thing on some wholesome brown rice. Yum.
Enjoy!