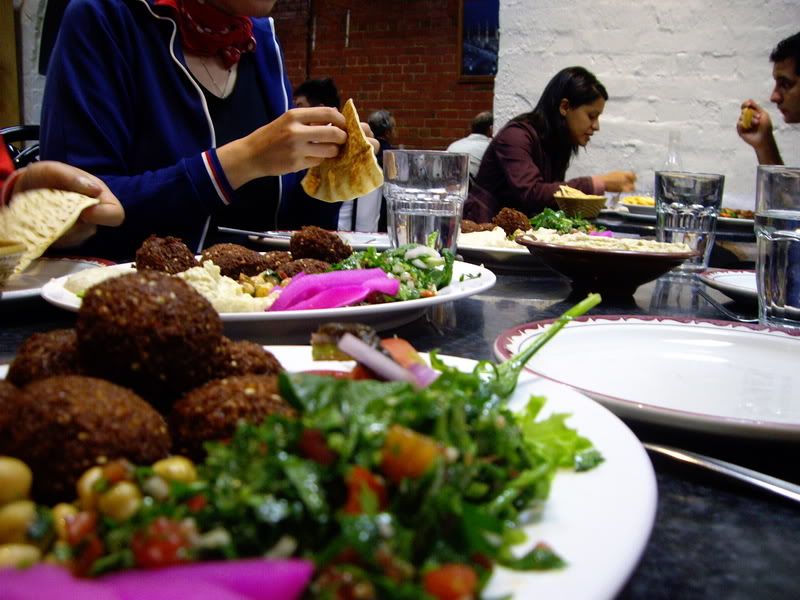 I visited Tibas on Sydney Rd some weeks ago now but the memory of crispy falafel, tantalising dips and fresh salads lives on in my mind forever....ever...ever.
It was a last minute Saturday evening decision to pay a visit to Tibas, and I must admit to being a touch concerned regarding seating availability, but luckily this place is huge, two large rooms with tables seating anywhere from two occupants to several more, to suit the requirement of any party.
At first we were seated against a wall with a scary mirror that kept swinging back and forth, threatening to collapse on us, perhaps decipate use, at least slam shards of glass t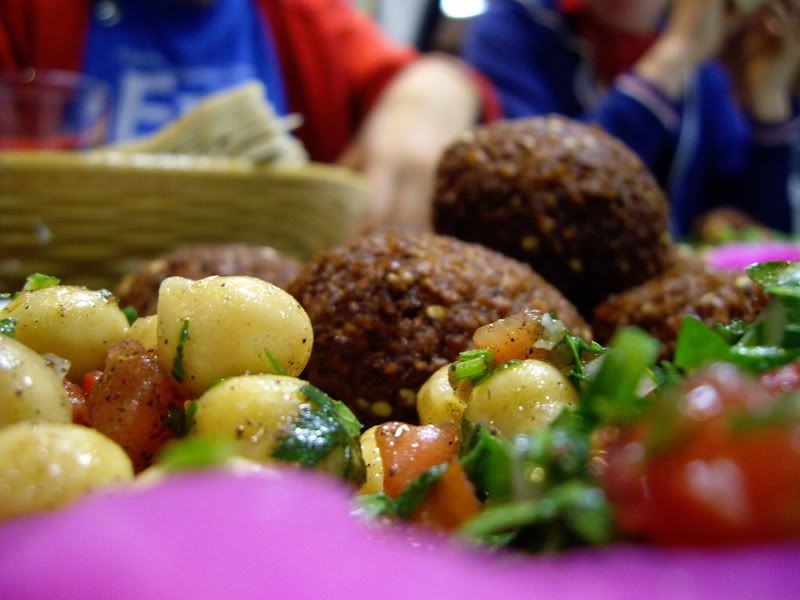 hrough our eyes. We moved tables without much fuss.
Though there is a definite huge focus of meat at Tibas (evidenced by giant revolving spits upon entering the establishment) the menu offers several options for the discerning vegan or vegetarian. There are two or three dips, vine leaves, falafel, salads and your usual middle eastern orientated suspects. Our table of five opted to order four "falafel plates", which required a slight amendment, as the falafel plate listed on the menu contains a yoghurt dip, decidedly non vegan. And besides, I hate yoghurt.
Speedy service is another admirable quality possessed at Tibas. Our meals (along with free bread in copious quantities) arrived within ten minutes. The oval shaped plates contain an abundance of falafel balls (okay, six), chickpea salad, tabouli, a green salad as well as both babaganoush (eggplant) and hommus (chickpea) dips, not forgetting the brightly coloured and flavoursome turnip pickles.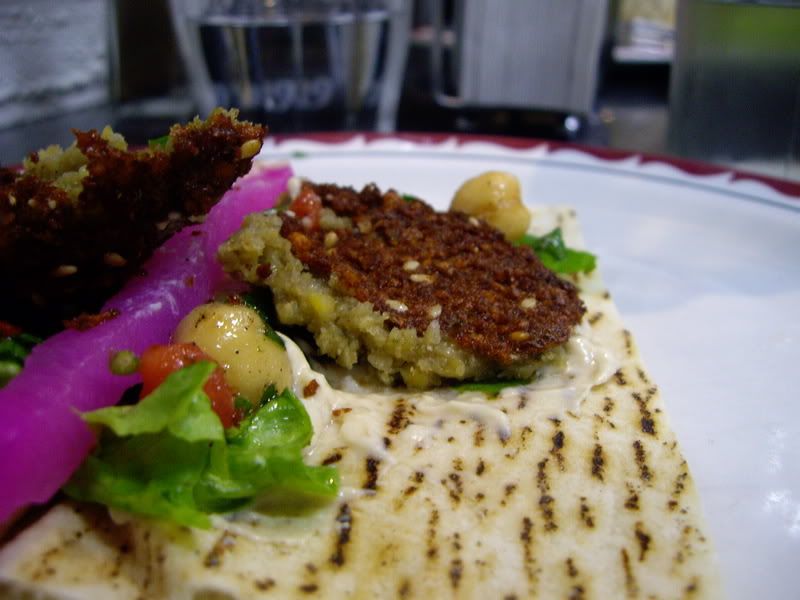 As a seasoned falafel consumer who has consumed falafel in at least ten different countries, i would go so far as to say, in terms of falafel balls alone, that Tibas is up there with the best of them. Well flavoured and with a deliciously crisp exterior, you know this falafel has been deep fried to all hell, however the balls are not at all oily, instead they are light and delicate, like some sort of falafel cloud, perhaps. All the salads are very fresh, dressed with a simple lemon, olive oil and salt n pepper dressing, the dips smooth and smokey.
The most popular method of eating is to take a pre quartered slice of pita bread, lay it out, smother with dip, salads, squish falafel and wrap awkwardly, deliciousness and drippings ensue but that's why you have plates so its fine.
Four plates of falafel plate fed five fittingly. We were all stuffed but satisfied, and from memory it cost each of us under $8. Amazing. Definitely a contender for best Lebanese restaurant on Sydney Rd, if not Melbourne..though there are still many, many for me to try. Tibas also does a falafel wrap for takeway, which I have not tried, but looks fat and good. On another occasion I sampled their hot chips, and they were incredible. Try them. Then walk up to Alasya for several varieties of vegan turkish delight. Gummy.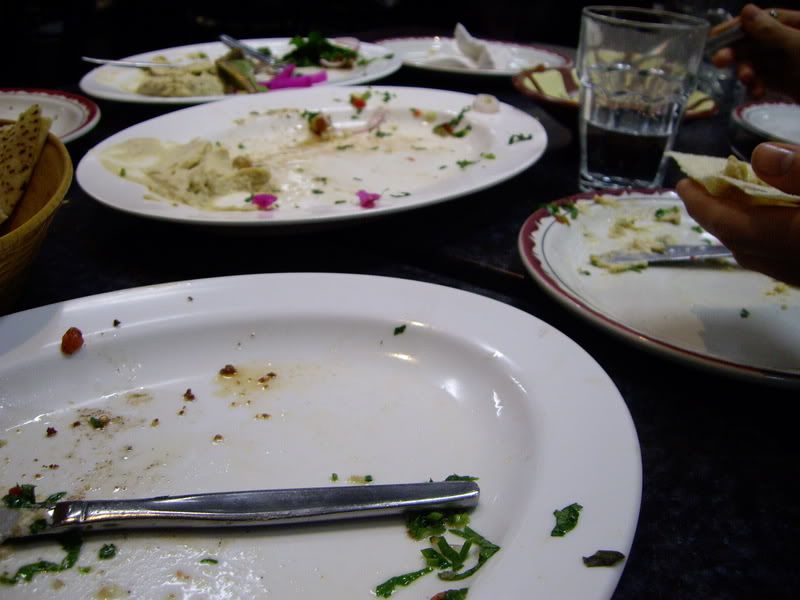 Tiba's Restaurant
504 Sydney Rd
Brunswick
93808425