I'm way into procrastinating. When I was in uni, my favourite anti study procrastination was to update my livejournal some four times a day, to report all manner of exciting events. Dog making a cute face, toast burning, contemplating dropping out and/or faking major illness/accident to get out of exams. Now that I do no learning whatsoever, I procrastinate by NOT writing in my blog. Usually I have a nap instead.
But my mouth it keeps eating, and my camera, it keeps taking pictures, so I'm going to catch everyone up with my last two months of eating in a brief, perfunctory manner so then I can start anew, fresh, etc.
Bowl of Soul
Forcing Brendan to rise early during school holidays, not eat breakfast, and buy a tram ticket the quickest he ever has (all whilst I'm holding the beeping tram door open with the weight of my buttocks leaned against it) actually turned out well. Bowl of Soul delivered the goods. They are a relativ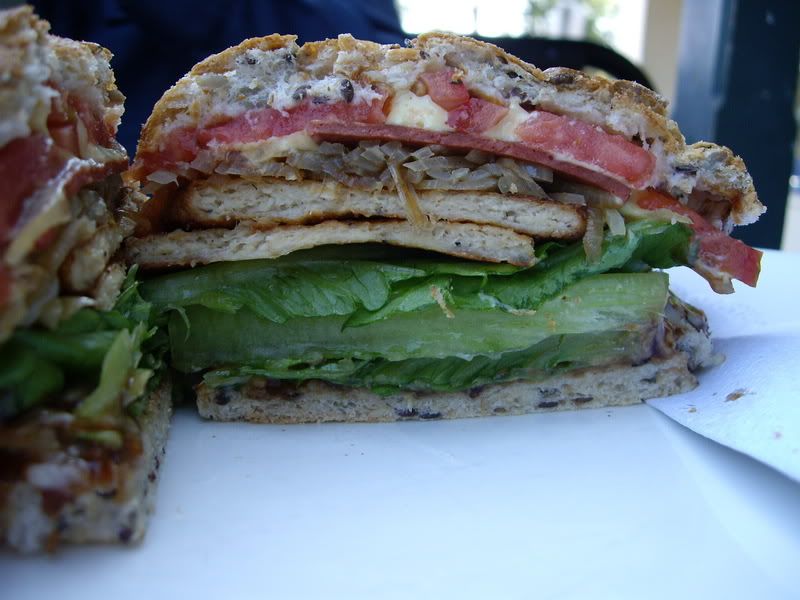 ely new eatery in Port Melbourne, and its a bit of a walk to get there from the tram stop, but keep your head averted, eyes out front, and ignore the gaggle of gourmet burger joints and keep walking 'til you reach it. Will not be sorry. Though the chalkboard menu is limited, the fact that everything is vegan will find you in an overwhelmed state of rapture.
Bowl of Soul offer a mainly burger/sandwich based menu, with the option of soup and a few cakes as well.
You order and pay at the counter, choosing from such amazingness as "Steakout Sandwich" "Veggie BLT" and "Cajun Chicken Burger" amongst others! All burgers are ve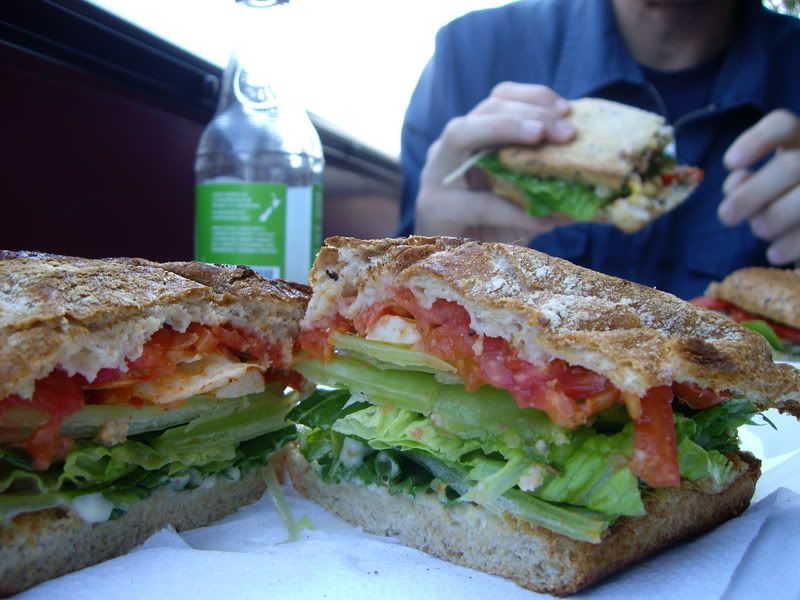 ganafiable (can be made vegan, new word, learn it). Take away or eat in, you can choose to sit inside on some nice dark wood chairs with crimson walls, or outside. Which is just outside. On this occasion I purchased some sort of prawn based burger, with lettuce, tomato and a vegan friendly mayo sauce. It was quite spectacular, but even better was Brendan's Steakout Sandwich, which had some kind of pinky "steak" mock, a slice of vegan bacon, and also one of the best flavoured vegan cheeses I have ever had the pleasure of tasting. The burgers themselves were spectacular, but I also don't think it would hurt to have some kind of side dish accompany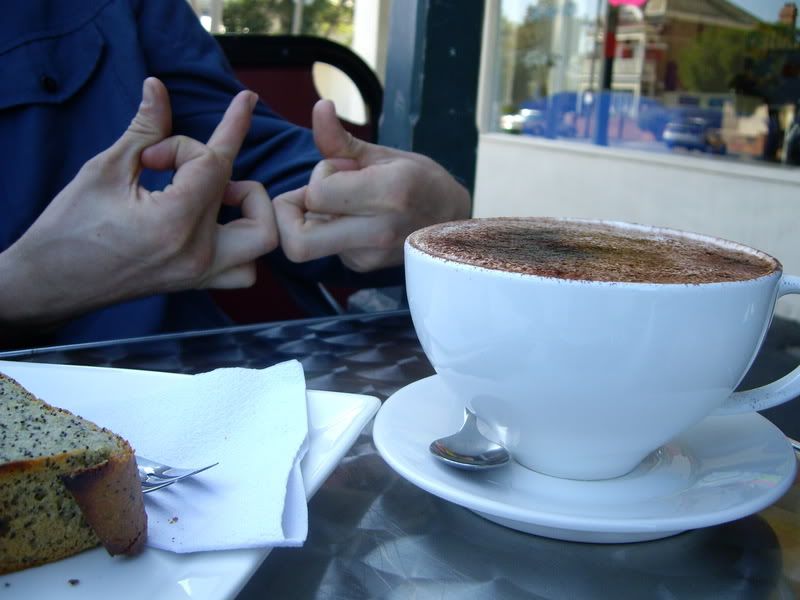 ing...something..maybe..like chips. Delicious chips. It's so nice to have an occasional break from burger munching, to just put it down for a moment, cho
mp a few idle chips, and continue. Really a nice thing to do.
The price of a burger is approximately $7.50 from memory which in my opinion is rather fair for an occasional treat.
We followed up with slices of cake and a most obscenely enormous cup of hot chocolate. Quite good.
Bowl of Soul
118 Bridge Street
Port Melbourne
Spudbar
I visited Spudbar twice in as many days because I was in a non fried potato (unusual for me) kinda mood. One potato is more than enough to share between two people, particularly if you do like myself and go fully sick on the toppings. Also they do cost about $8 a pop, which is a tad on the pricey side for a root vegetable wrapped in foil. On the last occasion I visit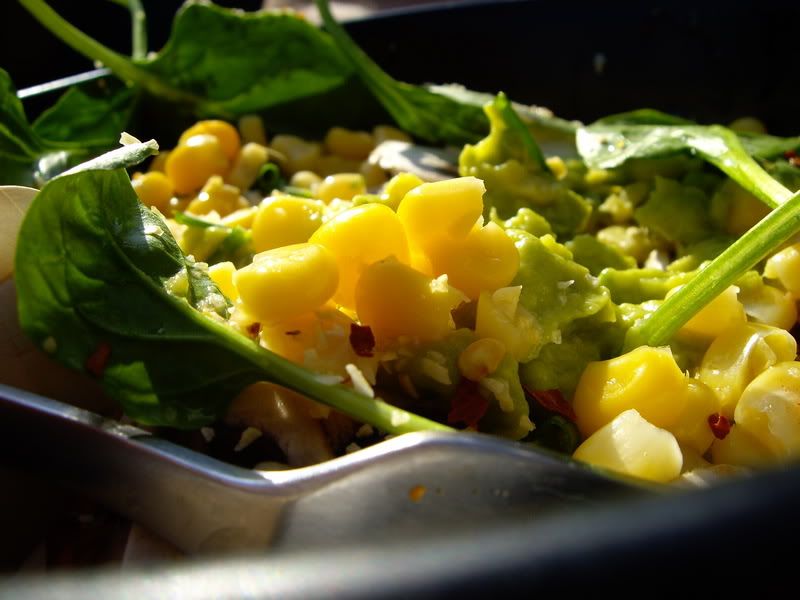 ed this haven of non fried potato goodness, I have lentil dahl, brocolli, mushrooms, corn, avocado, hummus, baby spinach and spring onion. The offerings for vegans and vegetarians are vast and also include, but are not limited to, beans, carrot, pineapple, olives, tomato and so on and so forth. The flavour combinations are endless. Other spudtastic stuffs about Spudbar are the vast array of delicious beverages available and the diy toppings at the end, such as tabasco, chilli flakes, soy sauce, garlic flakes and also onion flakes that look astoundingly like toenail cuttings. Flavoursome toenail cuttings.
After my last visit, Rocket made me go to a computer swap meet. Not so spudazing.
Spudbar
Hawthorn - 638A Glenferrie Rd
Richmond - 226 Swan Street
Also in St Kilda, Prahran, Docklands and Collins St.
Hy Hy Restaurant
Venturing out westside almost consistently guarantees amazing eats. Jacquie and I sampled a duo of dishes from Hy Hy restaurant on our most recent visit. We were seated and brought menus swiftly, probably bec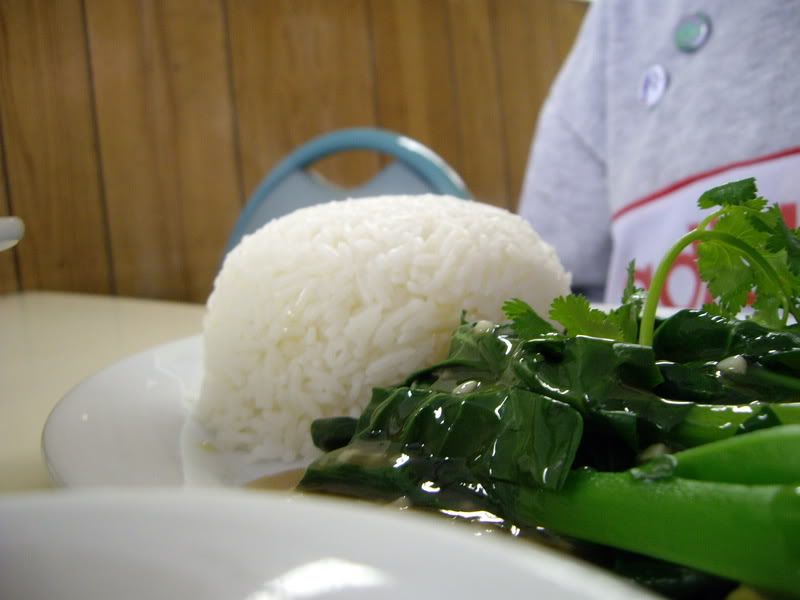 ause we were the only customers, chose our food (spring roll salad, made veg, chinese brocolli and rice substituting oyster sauce for garlic sauce) and then had the option of speaking amongst ourselves, checking each other out in the wall to wall mirrors, or watching Dr Phil on the teev. Before we even had time to do all three, our meals were brought out!
The spring roll salad was good, as good as it is anywhere in Footscray or Victoria Street. I guess adequate would be another way to describe it. Adequately crunchy, adequately salady, adequately peanut studded. Nothing above or below adequate. Just adequate. The brocolli on the other hand, outstanding! Lightly steamed and retaining almost all of its natural crunch and flavour, liberally doused with a well clinging, garlic rich sauce, you would not believe a dish that looked so much like plant on a plate with a side of rice could taste so good!
Washed down with a free pot of jasmine tea, we left satisfied and full, pockets about $15 lighter, hearts happy as we headed to Savers. I got some socks that say "Cutie" on them.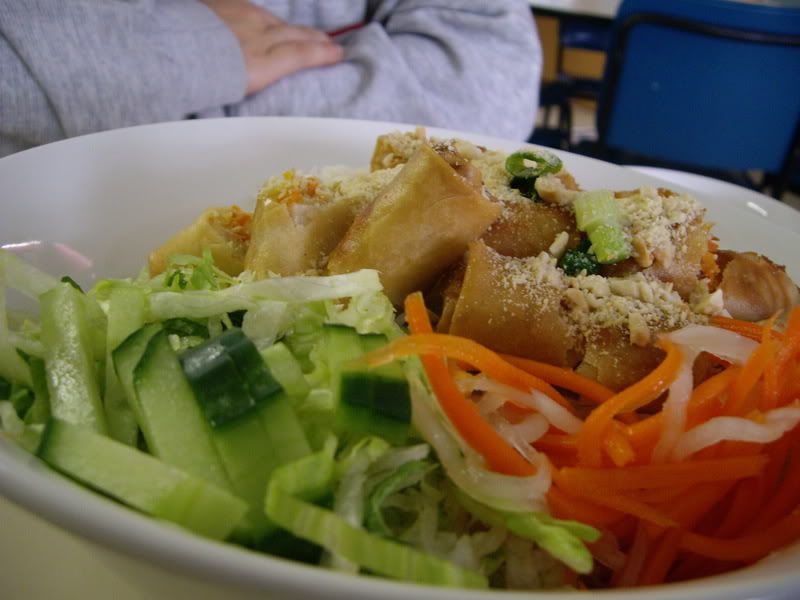 I like this photo because it shows the impatience people have with truly dedicated epicurean photographers such as myself. Uncross your arms.
Hy Hy Restaurant112 Hopkins StreetFootscray