So I cooked some stuff over the last couple of months (of slack absenteeism).
Sanitarium Roast served with herbed wedges and avocado cucumber salad.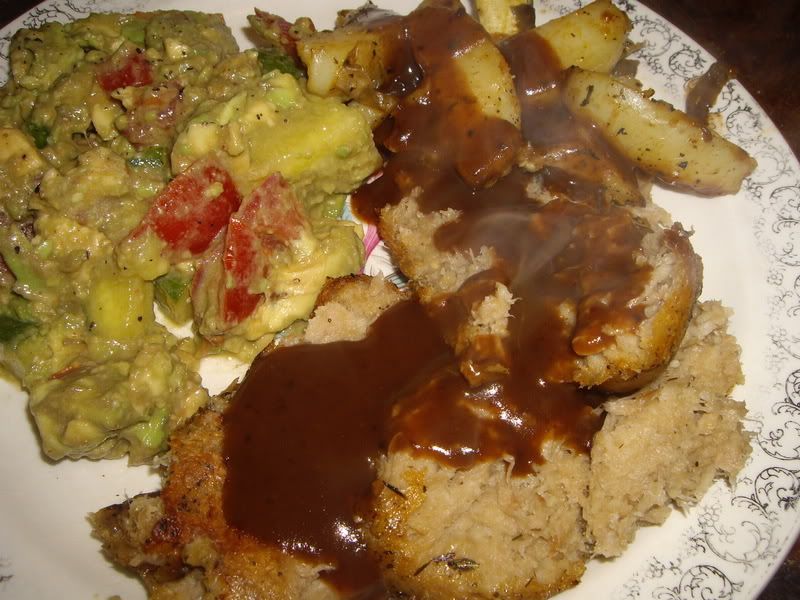 I was quite bemused upon opening the Sanitarium Roast packet...the cylindrical "roast" appeared to more resemble what I feed my dog (also known as "dog log") than something I would willingly choose to eat myself. But, being the brave warrior for the vegan cause that I am, I rolled that thing in the provided (luridly orange) herb and spice mix and wacked it in the oven, cosied up to some potato wedges.

Whilst baking I prepared a simple salad consisting of an avocado that was going mooshy, 3/4 of a cucumber that was just wasting space in the fridge and some random tomato, spiced up with a healthy dash of balsamic and some olive oil. Simple, but delicious.
The roast emerged from the oven looking surprisingly edible, brown and crusty on the outside, a somewhat springy texture was revealed to my forky probings. Sliced and generously doused in packet gravy, it actually tasted not too bad! Not sure that it would have been quite so consumable minus the lashings of gravy and stuff on the side, but it worked well in this instance. I'd like to try it maybe in some sort of sandwich, with some sort of mustard..perhaps a pickle.
Mock Tuna Salad
I first spied this recipe whilst browsing http://yeahthatveganshit.blogspot.com/. I think mainly because the photo on Lindyloo's blog had a potato chip in it, and I quite like potato chips.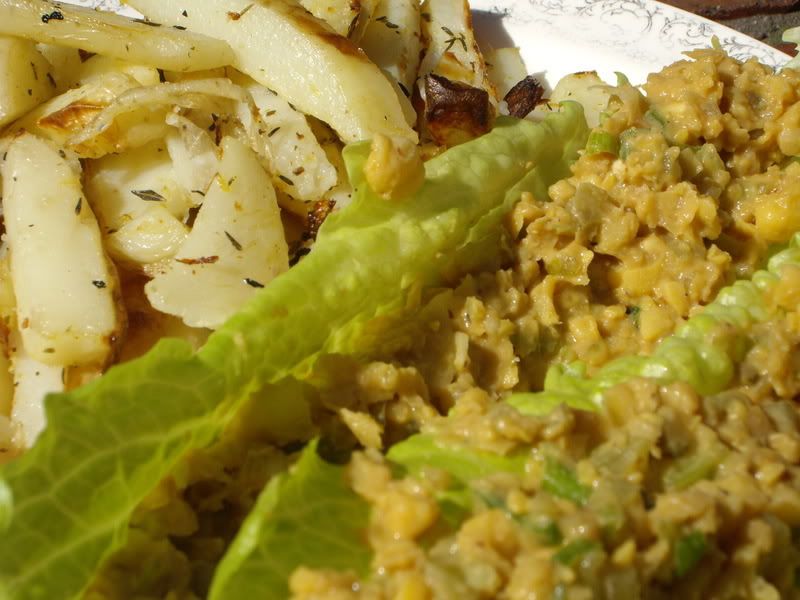 The recipe is remarkably simple to prepare, makes a decent amount, and you could probably use it in a whole heap of recipes
INGREDIENTS:
1(15 oz.) can chick-peas, drained (or 1.5 c. cooked)
1/4 cup vegan mayonnaise (I use 97% Fat Free Praise, which is vegan)
1/3 cup minced celery
2.5 T. minced dill pickle (about 1 pickle-slice, give or take)
1/2 T. nutritional yeast
1 green onion, chopped
1 t. soy sauce
1/2 t. kelp powder (optional, I didn't, though I'm sure it would give it that tunaish taste)
pepper, to taste

DIRECTIONS
In a medium bowl, mash the chick-peas coarsely with a fork. Mix in the remaining ingredients. Use on sandwiches or on a bed of salad greens.
I served it in some cos lettuce leaves with some (rather pale) lemon fries. Just chips with herbs and lemon zest on them prior to baking. Tasted good but not enough crunch. I need to work on my baked chips routine, either that or resort to deep frying them. Any hints? I did parboil them first but it helped not a thing. Le sigh.
Anyway regarding the mock tuna, I've never actually tasted real tuna so I dont know how similar it is, but Rocket said it had a similarity, and it looked a damn sight like it! It was really tasty, tangy and nicely textured, would go well in sandwiches and just as a snack, and seems like it would be something that would keep well in the fridge over time.
You should try it!