The day that I discovered that the Tofu Shop had possession of a soft serve machine was truly, truly unsurpassed. Except maybe by the time I absolutely by accident walked into a vegan gelati place in Rome; that was rad too. I only wanted to ask directions but instead I gorged myself! Off topic.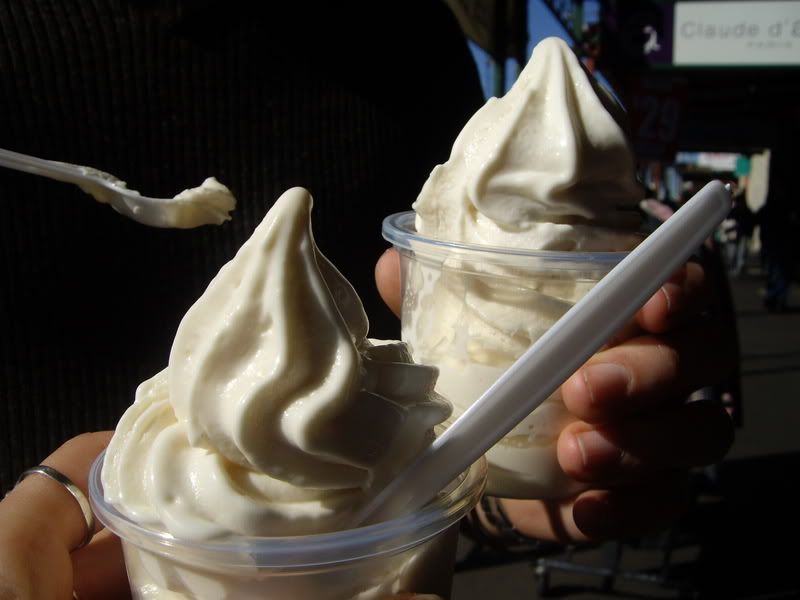 The Tofu Shop does own a soft serve machine in which they make tofu based soft serve, sweetened with fructose....that means its healthy and good for you right? Fruit sugar? Could be consumed daily, right? Yes? Hm. Regardless, this stuff is just wonderful, reminiscent of the days of 30cent cones but less pig fat. Okay no pig fat. And they change the flavour every week! The flavours range from old reliables (such as vanilla malt, pictured above) to the exotic and then some (such as the vivid green coconut-pandan I had the other day).
I also know, through tofu related gossip, that one can request flavours. I also know that they have a rosewater flavour. One day I will combine these two important items of factual knowledge and request rosewater soft serve, until then I will just be shy and eat what they give me.
You can have the soft serve for takeaway or eat there, they have some nice outdoor seats, and that can be a good option as often times it can take a few minutes to rev up the machine. Also you can be regaled by very interesting monologues by a man who works there, and you will not really understand what is going on but you still listen.
The Tofu Shop also has bain marie style eating with revolving dishes of really delicious looking vegetables, and house made tofu-based cakes and slices. I will report back at a later date.
The Tofu Shop
78 Bridge Road
Richmond