One day I came home from work, and whilst perusing the takeaway menus that I have amassed over time (I do this on a regular basis, sheerly for kicks) I came across one that had never seen before! And nobody could tell me where it came from, how it had made its way into my pile...though I suspect it was...through the letterbox.
It was for a newly opened pizza place on Bridge Road (just a walk away from me) called Spelt. All their bases are made on spelt flour, which is a special flour that can often be consumed by people with wheat intolerances. Now, I have no known intolerance to wheat, but I do have an intolerance to not eating pizza on a regular basis, so off I went.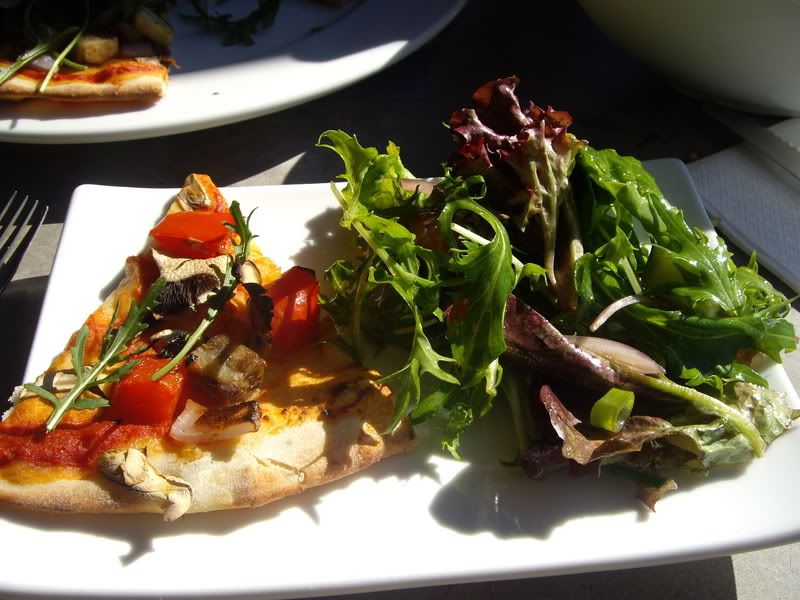 The restaurant itself is rather nice, lots and lots of seating areas, including outdoors and a cute little courtyard. The service was friendly and helpful which is always pleasant. We ended up ordering a roasted vegetable pizza to share (without the cheese) and a garden salad.
They arrived in good time, and consisted of certainly enough food to feed two hungry vegans. The pizza, though somewhat nakeder than what I'm usually used to, was delicious - not too oily despite the roasted/marinated vegetables, and the pizza crust was lovely and crispy and spelty. Well it really tasted like a normal flour base to me, which is the point I guess. The salad was also great. They do that thing where they slather it in an amount of olive oil that I personally would never use on my salads at home due to guilt factor, but makes the salad ingredients taste just awesomely amazing. It was very fresh and there was heaps of it and I did enjoy it.
The meal total came to about $20. They have a few vegan/veggie pizzas on the menu including a mixed mushroom one which will become my next victim. They also have pasta and a pretty decent salad menu.
As a side note, whilst spelt bases are generally okay for people with wheat intolerances, they still contain that pesky gluten so are not suitable for coeliacs. However, Plush Pizza do offer a gluten free base for a few bucks extra. Its a shame it tastes a tad cardboardy though. But hey! Options!
Spelt
14 Bridge Road
Richmond