....quite literally, you could say!
The good news is twofold. This morning began with me picking up my brand spanking new (BLUE!) camera (if only I could use it to take a photo of itself you would be so enamoured with it! Stupid physics) aaaand within that same half hour, I was sitting down to a delicious breakfast preceded by some eager and crappy amateur (food) photography.
Bomb Cafe in Abbotsford was the carefully selected establishment in question. Many moons ago (last year) I resided just behind Bomb Cafe, the residence itself was actually a real life hovel, and the only good thing about it was the location. Well that and the possum that died in the cavities of the walls and produced odours and maggots. But if I had to choose one thing, it would definitely be the location!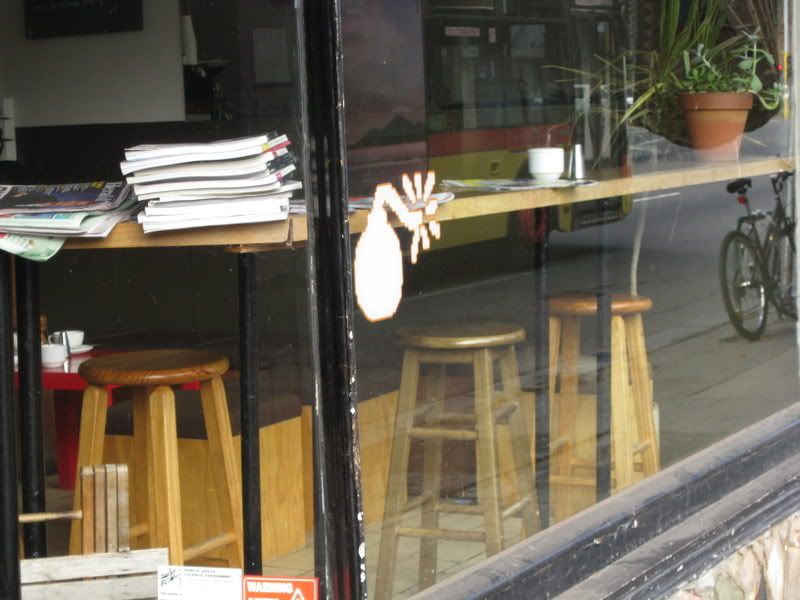 Despite Bomb Cafe being so close to my house, it took me quite some time to visit it. You see, it looks really mysterious, one of those places that takes guts and determination to initially enter. On a strip of Johnston St, largely full of abandoned laundromats and old European man style coffee shops and no signage (except a little wingdings bomb) it took a fair few walks past to actually suck it up and go in. Anyway to cut a meanderingly long story short, I did go in! And discovered that they actually have the word "vegan" on the menu! As in, vegan fry up and vegan scrambled tofu!
Okay, onto this most previous visit! Probably the best thing about walking in after a years absence (besides the thought of tofu scram made by someone other than me) was being asked where we had been for the last year. It's nice to feel memorable!
So..the scram! We shared tofu scramble with sides ($8.50 ish) of avocado, mushrooms and spinach ($2.50-$3.50 each). For the tofu haters out there, you can choose to have a vegan fry up, a plate full of fried tomato, mushrooms, spinach and other assorted breakfastish vegetables.
But anyway...this is the scram:
And this is the bev. Long black and soy chai:
And it was allllll delicious! The scramble, big enough to share between two! Slices of sourdough bread soaked with tofu scramble juices (much better than it sounds), firmly crumbled tofu with sweet caramelised red onion, mushrooms and sizable quantities of spinach and avocado. The chai blend was just right as well.
Bomb Cafe are also more than happy to whip you up a vegan lunch! You can have a massive baguette filled with roast and marinated veggies (ask for the mega garlicky artichoke spread, dont forget!), and apparently they also do a mean risotto if you ask real nice.
There is a whole bunch of seating as well! Front inside is nice and cosy, and chatty if you want it to be as well, there is a middle ish area to spread out with your paper or buddies and make a good couple of hours out of it, and a gorgeous courtyard (that almost backed onto my hovel, exciting stuff).
And I forgot how to conclude these things, so here's a picture of my dog.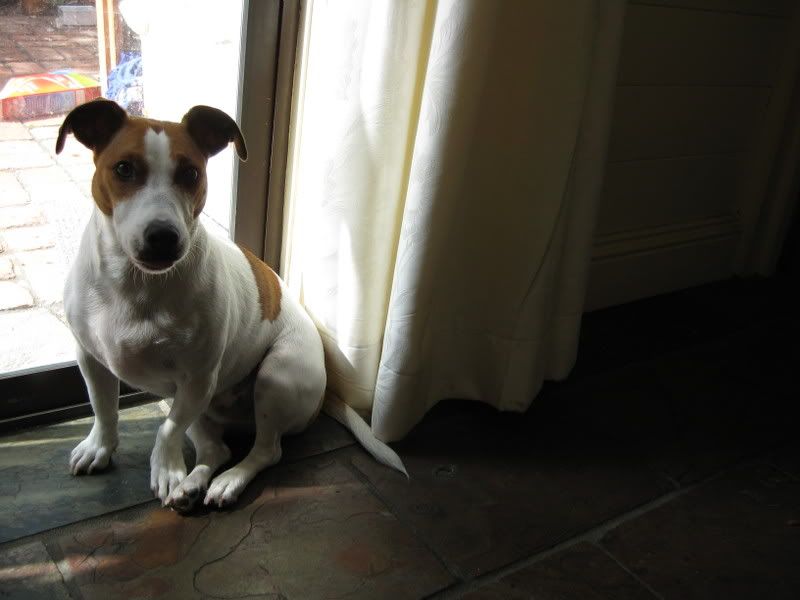 Bomb Cafe
229 Johnston St
Abbotsford
Ph (03) 9486 0699