I've often relied on
Chatterbox
for my (very regular) laksa fix, in desperate times the noodle shop across the road from work does the job. Chatterbox does keep me happy though, large servings, super quick service, and a great product, all the boxes ticked..then why am I such an unfaithful lover, brazenly trying to search out a superior laksa? I cannot answer, only that I am hopelessly polyamorous when it comes to my laksa love.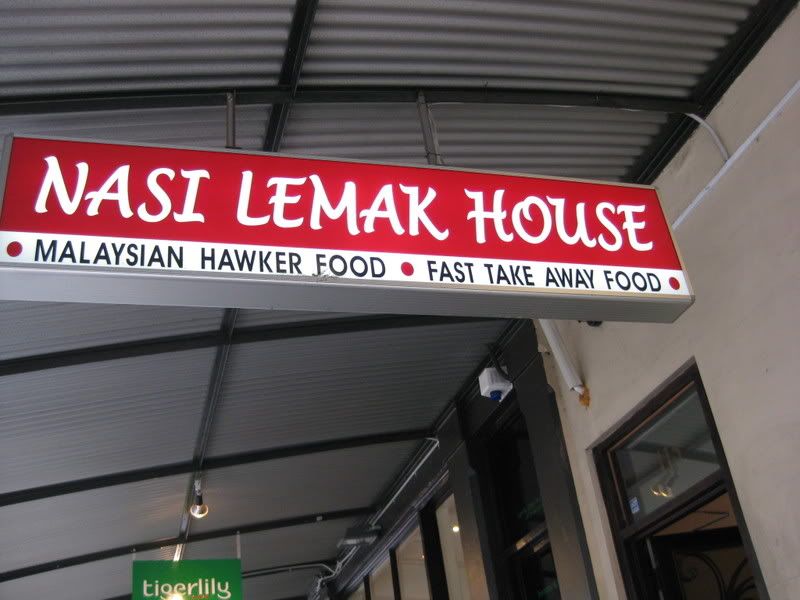 Thus, Nasi Lemak House. This was a recommendation from a trusted source, and the minute I heard of its "superiority" I was already looking for openings in my lunching diary. I finally got myself there (a whole three days later) and dragged my friends Harriet (of
This is Vegan Melbourne
blog) and Erle (renowned laksa expert) along for the ride.
Nasi Lemak House is squish tiny. A scattering of seats inside and a couple of pigeon infested tables outside. You order and pay for your meal inside, receive a ticket and come back to collect it later, which does require some guesswork as you're never actually told to come in and get it! Luckily I have keen senses when it comes to food, so I was up right before our meals were ready. The wait time, though by no means extreme, certainly cannot be compared to the lightning fast speed of laksa delivery at Chatterbox. An unfortunate minus. The price tag, at $10, is also a few bones more exxy than that at Chatterbox.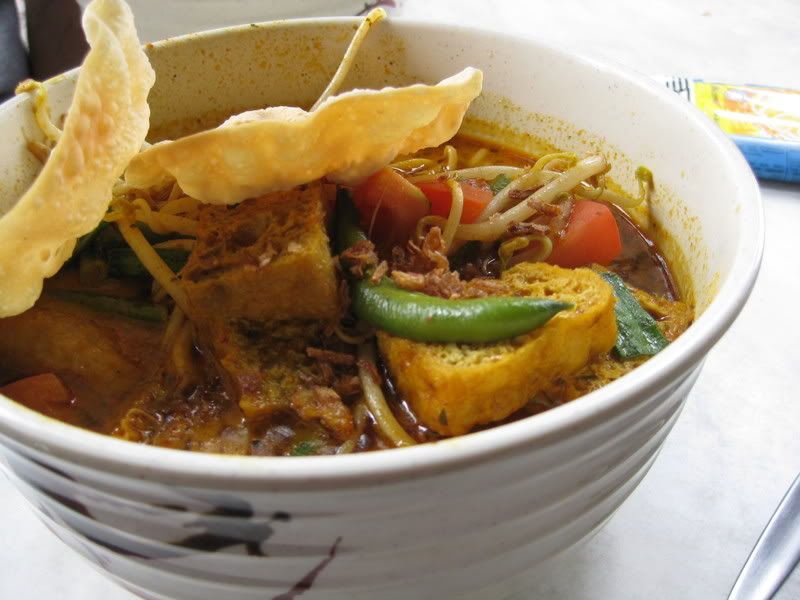 The product itself? It was quite far removed from that of Chatterbox, so its not quite fair to compare. A copious quantity, curiously vegetabled with green beans, fresh tomato, and bean shoots. An interesting combination. A definite plus in the sheer quantity of deliciously spongy tofu. In my experience, the pieces of tofu you receive in soups and stir fries can usually be counted on one hand that has already lost two fingers in a horrible ballooning accident, so to be overwhelmed (ie. to lose count) by the amount of tofu in any dish is a bonus. The noodles involved the usual combo of hokkien and thin rice, so no complaints there, and the whole thing was adorned by a pappadum. Novel. The soup itself was oilier than I'm used to, and after I'd picked out all the veggies and floaty bits, it was a bit too slick like to consume on its own, however it was very nicely spiced and added a great flavour kick to the soup overall.
In summary, a good and decent laksa - well tofued, interesting choice of veg, but my heart will always belong to Chatterbox, no matter what indiscretions may occur between me and other tall, dark laksa strangers.
Nasi Lemak House113 Grattan StreetCarlton