Penang Coffee House
Walking along Burwood Road at lunchtime can be a tad graveyard like. Restaurants and cafes open, but empty. And then you reach Penang Coffee House. Bursting at the seams with businessmen, students, Hawthorn mums and me and Rocket, it's almost unbearably noisy and squishy. Almost. The menu boasts an expansive selection of Malaysian vegan dishes, from laksa, to curry and lots of noodle dishes.
The impossibly cute waitress hooked us up with some mee goreng and vegie curry with rice and roti on the side. Arriving in no time at all, the mee goreng was full of the pleasantly spicy goodness of noodles, broccoli, onion, cabbage and other stuffs (those were what I tried because it did not belong to me so I could not try everything contained within its realms)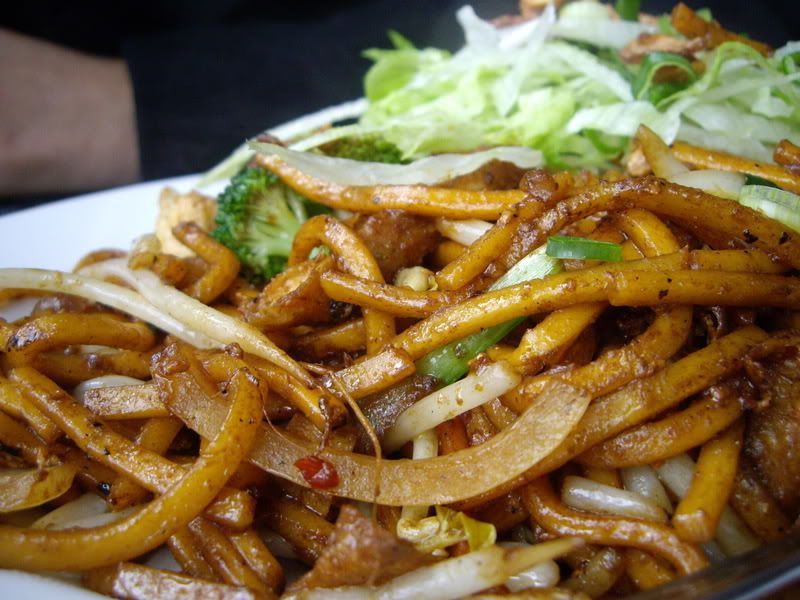 My vegetable curry was quite a production, arriving on three (omg yes three!) separate dishes, one for rice (but also lots of room to mingle the rice and said curry together), a little bowl filled with absolutely diarrhetic looking curry, and a roti bread different to any other in my entire life experience. Observe.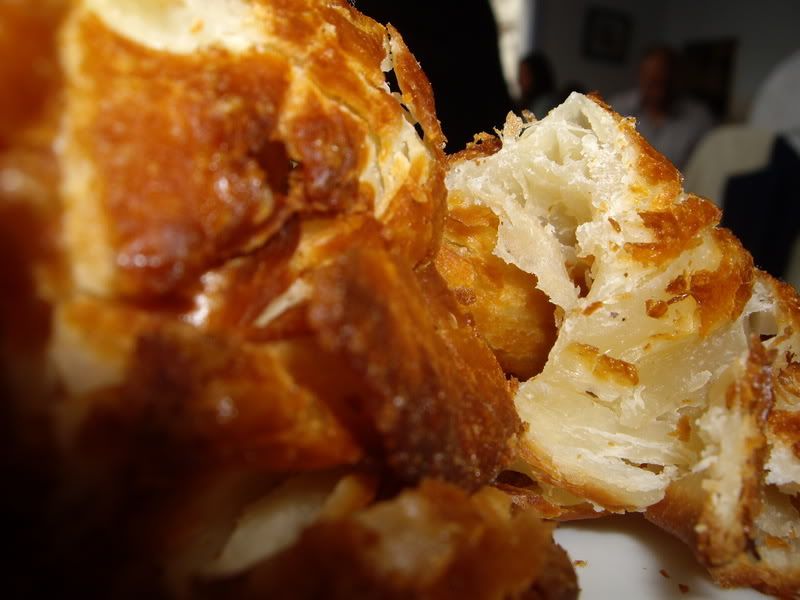 The curry, though aesthetically revolting, was unbelievably delicious. It was that subtly sweet spicy that can only be achieved through the copious use of coconut cream. The vegies in my curry were mainly cauliflower and green beans, definitely two vegetables that are certainly not in my top 8, but they were fresh and delicious and suited the meal perfectly.
The aforementioned roti bread was most certainly a distant, thrice removed cousin of the usual roti we've all had with our curry. It was the flakiest, crunchiest roti of all time, all crackly and angry looking and had pointy sharp pastry bits that hurt with their crisp deliciousness, really awesome, really.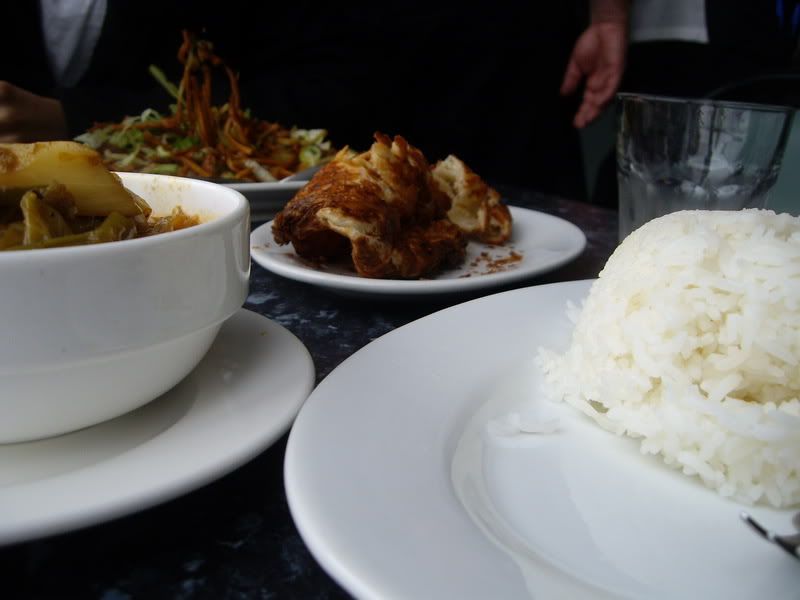 The dishes set us about about $8 each. And I could hardly even finish mine. So that's good. And the coffee? I was so distracted by the food, trying it didn't even occur to me. But I don't drink coffee anyway. So. Not applicable. Anyway. Oh my god also did you know they have ice kechang? I just found out! Come with me soon to try?
Scene of demolishment below.
Penang Coffee House
549 Burwood Road
Hawthorn
Chatterbox
Chatterbox is the home of some absolutely stupendous laksa. I dont know, nor do I care, about any of their other dishes, bar the laksa. I walk up to the counter of this cramped, hidden gem of an eatery and ask for a vegetarian laksa. I've never perused the menu (though I have heard whisperings of Chatterbox's chef's abilities to vegetarianise anything and everything on the menu) and I think once I tried someone's noodles, and they weren't laksa flavoured, so I wont even bother wasting the stomach room again.
So you find it behind a cafe on Swanston Street (Il Consomethingortheother) next door to what used to be the only skate store in Melbourne city circa high school baggy jeans and DC's wearing era, Melbourne Skate Store I believe it is called. You walk into Chatterbox and are immediately confronted by the super happy super friendly man behind the counter. Place your order, receive your numbered raffle ticket, load up on free hot tea, chopsticks, and spoons, take a seat. In the time it took the perform these motions (one minute, approx), you'll have your meal in front of you before your bum hits the seat.
I can only comment on the laksa at this stage, I care not to comment on anything else. The laksa is a thing of amazement. Big enough to share between two people, it is a veritable swamp of fresh, crispy vegetables (broccoli, baby corn, carrots, slimey mushrooms and those eyeball squelchy mushrooms, and various others), udon noodles, thin rice noodles, and puffy tofu soaking up delicious coconutty, chilli, oily, brothy juices.
Sit outside amongst the seagulls, garbage bins and RMIT students and enjoy.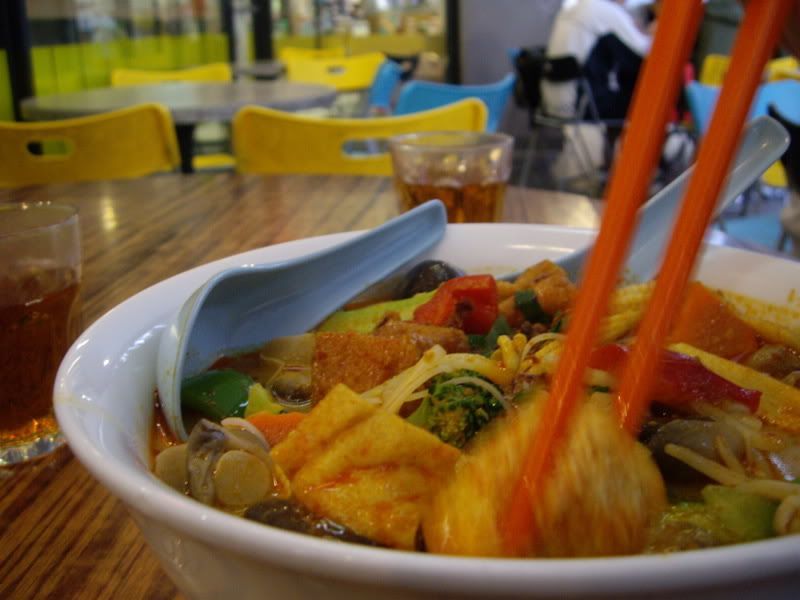 Chatterbox Curry & Noodle Bar
U18/235 Bourke St
Melbourne
Kaki
Kaki is a teensy tiny Japanese joint on High Street that does wonderfully cheap meals for vegetarians and vegans. For $6.50 you can gorge yourself on a more than adequate variety of noodles, rice dishes and whatnot. They also serve most meals with a tempura cake. Reminiscent of the more traditional okonomiyaki, but infinity times more deep fried (therefore better? Discuss). On this occasion, my dining companions all ordered the vegie curry on rice with tempura and tofu, whilst I went with the udon noodle soup, with tempura cake on the side.
Served quickly, with the nourishing goodness of frozen vegetables (green beans, carrot, corn, the usual suspects), the food is basic but filling.
Kaki Japanese Restaurant
265 High Street
Northcote

Las Chicas

Jacquie and I needed to pay an essential and regular visit to Balaclava, home of Rishon's Grocery Store. However, before tackling this home of Jewishcentric orgiastic snacks, we had to nourish ourselves with a hearty breakfast. At 1pm. Yes. I had wanted to visit Las Chicas since reading about it on thebreakfastblog.blogspot.com and also in the Age Cheap Eats Guide. Also it was the closest vendor of hashbrowns in the vicinity of Balaclava train station, so that's key too.
Las Chicas has both indoor and outdoor seating in copious quantities, however unless you dig lining up for some toast (exquisitely gourmet as it may be) stick to visiting on weekdays.
The menu is based mainly on breakfasty stuff, and separated into vegetarian (offering about 10 different options) and meaty stuff. If you're a vegan, you'll have ample choice from the listed extras. Jacquie and I decided to go halvies in a plate due to the sheer volume of extras we were ordering.

We ended up with two thick cut slices of polenta and pumpkin bread, spinach, hashbrowns, mushrooms, avocado and baked beans. The bread, magical. As soft and fluffy as cake, only without the sweet, studded with crunchy chewy pumpkin seeds. The baked beans were on the more chewy side, but still delightfully saucy. Spinach and mushrooms cooked to perfection. Hashbrowns were of your typical frozen food aisle variety, but any fried potatoey product (mass produced or no) is a-ok by me. The avocado was served pre mashed so that saved all of 2.3 seconds in getting it down my gob. All in all a both aesthetically pleasing and tummy filling breakfast.
Expensive, yes. $28 including coffees (between the two of us), but not even all the nutty chews I ate from Rishon's, or the stupid hats we tried on at the party shop next door were able to make me as happy as that breakfast did.
203 Carlisle Street
Balaclava