I'll bet my puppy dog that (unless you were present) that title means nothing to you. Right? Right.
Well! Let me 'splain. Last year, my current residence (which at the time was not my residence) was lucky enough to play host to the first annual "mock roo-bq", basically (very basically) involving the conjuring up of (a process both lengthy and dedicated) mock kangaroo! The idea was cooked up (ha) by Philly visitors, Joe and Ryan (apparently more commonly known as Ryjoe), and with Joe back in town again (with my new friend Shannon replacing Ryan - Shanjoe), a second annual mock r00-bq was in order.
Having missed the first roo-bq (and cursing myself eternally from that day forth), i could barely get through my six hour workday without taking my mind off the mock marsupial delights awaiting me at home.
Shannon, Joe and the ever amazing Sarah put the majority of the bbq together, I clumsily knocked together a couple of salads, and we had some amazing potluck contributions in the form of potato salads (we had three all up! carblicious!), a limey lemongrassy julienned salad with tempeh (who the eff made that and why aren't we married?), and cupcakes. Dear, sweet cupcakes made by dear, sweet Chad, in the forms of mint choc and peanut butter chocolate, and you can bet your sweet muffin that I ate one of each.
I cant really contribute any recipes because, well, I was anticipatorily wriggling around in my chair at work whilst most everything was being done, but I can contribute photos. Not even taken by myself. All credit to Sarah! (ps. I'm buying a camera tomorrow!)
So. Lookit.
Check the mock roo nestled in the bottom corner. It's formation involved a three stage process utilising wheat gluten - boiling, baking and bbqing. The three b's of delicious. Atop are both prawn and chicken kebabs, both later liberally (very liberally) doused in Shannon's amazing satay sauce.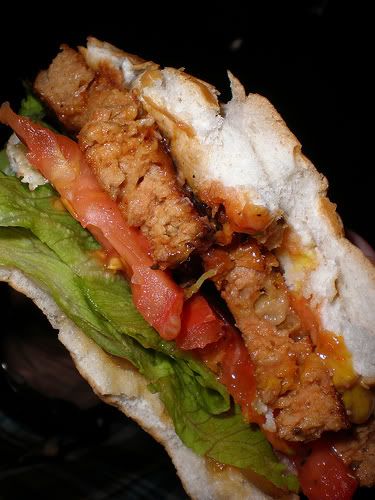 Action shot of the innards of a mock roo burger. Probably should put an MA 18+ rating on this one.
Endless kebabs. Three days after this photo was taken, I found a tray of them, forgotten about and hiding in the oven, all shrivelled and useless and good for nothing. My heart, it weeps for their lost deliciousness.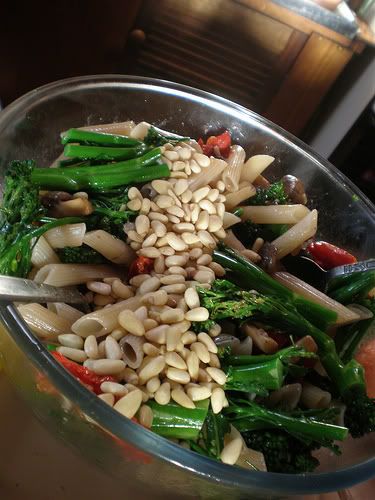 My pasta salad in the makings. Yeah ok, I know it's not mock, scroll on past, I don't mind.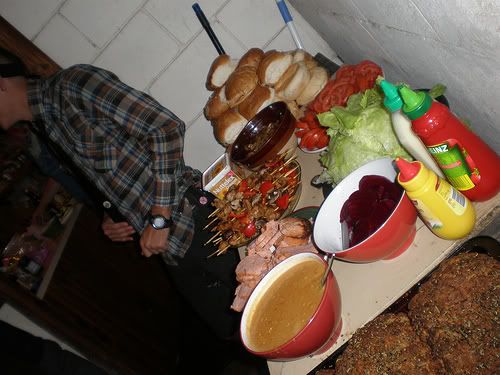 Fixings for the best bbq in existence. Observe also the pink mock ham, from a ham tube/log/whatever courtesy of Vincent's Vegetarian in Footscray.
And responsible for all of the above? The ever babelicious Shannon and Joe Fox! The only thing left to figure out is whether they should move here, or I should move there? Ah, deliciouns. Oh, i mean, delicious decisions.
Vincent's Vegetarian
353 Barkly Street
Footscray