Eating other people's food always inspires me to get wiggedy wack in my very own kitchen and see what I come up with. Usually I'll peruse a variety of recipes, combine a little of column a and a dash of column b and come up with my own creation, basically consisting of me chucking things into a saucepan and jabbing a it with utensils. Here's a few dishes that I've forced onto others in the last week or so. I'll do my best to include the recipes, but when your methodology involves shunning measuring devices, it might be best if you play around a bit to suit your own tastes!


Corn, Coconut, Lime and Herb Soup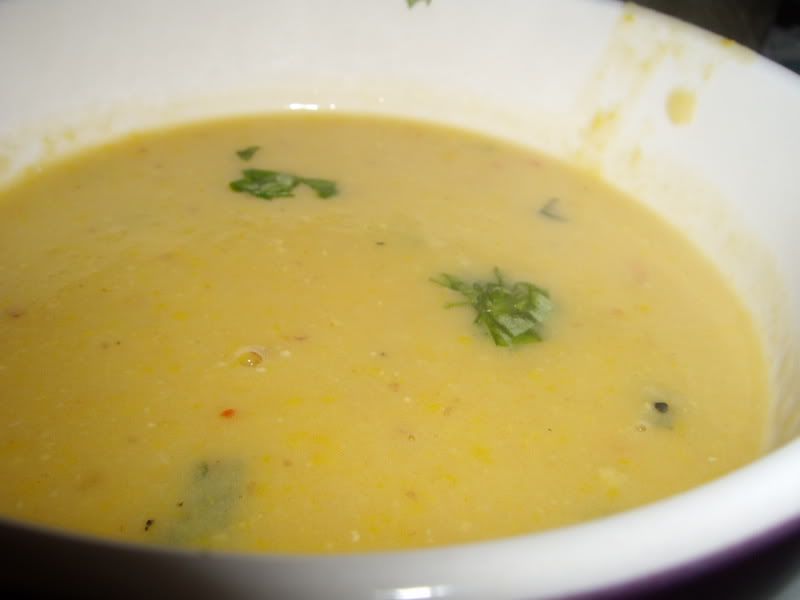 4 fresh corn cobs
1.5 litres of water/veggie/massel stock.
5cm long piece of ginger
2 shallots
4 garlic cloves
1 red chilli pepper
3 tsp sesame oil
1 potato
1 can of coconut milk
handful of fresh basil and fresh coriander
salt and pepper.

Using a very sharp knife, remove the corn kernels from the corn cobs, run the blunt side of the knife along the kernel to get any bits you missed. Snap corn kernels in half (you'll feel tough, serious) and boil them for a half hour or so in the stock. Mince the ginger, shallots, garlic and chilli pepper. Heat the sesame oil in a frypan, and cook them until soft and fragrant.

Add diced potatoes, corn kernels, and stuff from the frypan to the boiling water (after removing corn cobs!) and leave until the potatoes are soft.

Leave to cool, then add to your blender bit by bit until soup is of a smooth consistency. Reheat and add coconut milk and roughly chopped basil and coriander. Season to taste with salt and pepper.

Serve topped with more chopped herbs!

Marinated Tofu Schnitzel, Garlicky Autumn Mash and Red Cabbage and Carrot Salad.


Tofu Schnitzel

block of very firm tofu (Soy Belle brand is A1!)
2 tsp massell chicken/beef/veg stock
good glug of soy sauce, sesame oil, dill, oregano, chilli sauce..etc.
1 cup soy milk
cornflour or lemon juice
2 cups herb and garlic breadcrumbs (diy or buy them preseasoned)
olive oil for frying

Slice the tofu to your desired thickness (I go extra thin, so at the end it works out that you get more individual schnitzels per person...score!) Get about a cup of water boiling in a good sized saucepan, add the stock, soy sauce, chilli, sesame oil and anything else you like to use when you make a nice, strong marinade. When dissolved and at a rapid boil, add your tofu slices and leave them for about ten minutes. Remove, leave to cool, and reserve remaining marinade fer makin' gravies.

In a bowl, gradually add cornflour or lemon juice to the soymilk until it is thick enough to coat the tofu slices. Use your best judgement on this, as it is easy to go overboard..or underboard.

On a flat plate or large bowl, mix up your breadcrumbs with herbs to your liking, including lots of black pepper and some dill. Heat up some olive oil in a frypan, the amount of oil you will need depends on the non stickability of your frypan. Go more nuts with the oil if your frypan tends to make stuff stick to it. Coat each tofu slice first in the soymilk mixture, then roll in the breadcrumbs. Immediately add to the heated oil. Fit as many slices as you can comfortably in the pan, turning when golden brown. Remove when both sides are deliciously crispy coloured.

Serve with gravy and/or lemon wedges. Amazing. Get Jacquie to make it for you, serious.

Garlicky Autumn Mash

potatoes
pumpkin
sweet potato
diced garlic cloves
nuttelex
good quality dijon or other spicy mustard (i use awesome gourmet horseradish mustard)
soymilk
salt and pepper

Dice up your vegies whilst you get a good sized pot of water boiling. Add vegies, boil 'til you can poke a potato right through with a fork. Drain and mash using a nice quantity of garlic, mustard and nuttelex. Add soymilk until you reach your desired consistency. Salt and pepper to taste. Amazing.

Coconut -Vanilla-Cinnamon Rice Pudding


1 can of coconut cream
2 teaspoons of cinnamon
3 tablespoons of brown sugar
zest of half an orange
zest of half a lime
3/4 cup of arborio rice

Place coconut cream, sugar, cinnamon and zest in a medium saucepan. Bring slowly to the boil, stirring until sugar has dissolved. Add rice and turn heat to low. Cover pan and cook gently for 35-40 minutes. Stir the rice. You should have a creamy, tender mixture. Spoon into individual bowls or one big one, depending on sharing; for or against.

Serve warm or chilled, with coconut shavings, strawberries, vanilla icecream, any other combination of delicious.


Garlic Parsley Spirals with Pumpkin Oregano Sauce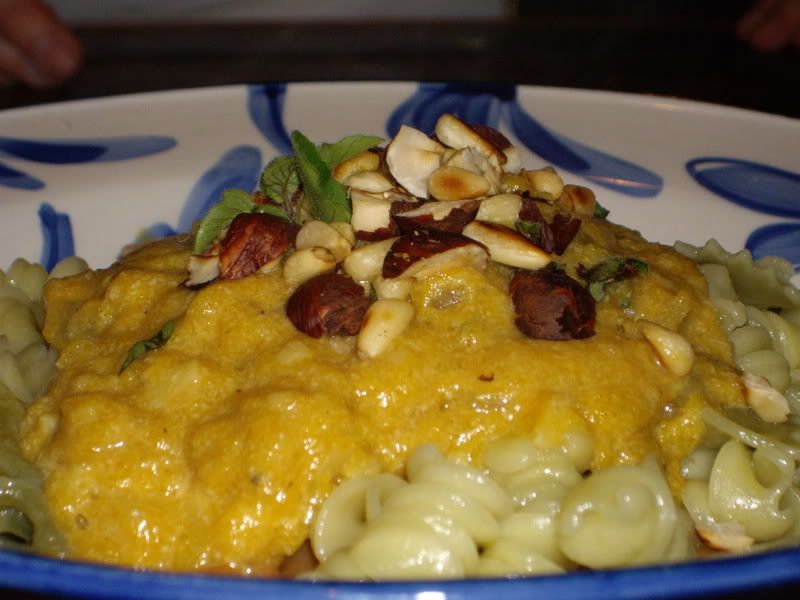 1 smallish pumpkin, diced
1.5 cups of soymilk
2 tablespoons freshly oregano
half a nutmeg nug, finely grated.
salt and pepper to taste
pasta of your choice (i used special expenno spelt garlic and parsley spirals from the farmer's market)
good handful of toasted hazelnuts or pine nuts

Dice pumpkin and add to saucepan along with the soymilk. Simmer until soft, about ten minutes. Add fresh herbs and nutmeg, and mash with mashing device of your choice. Salt and pepper to taste, over hot pasta. Top with the hazelnuts and pine nuts. Oregano sprig for decorative purposes.

Stroganoff on Soft Polenta, Cabbage and Avocado Sesame Salad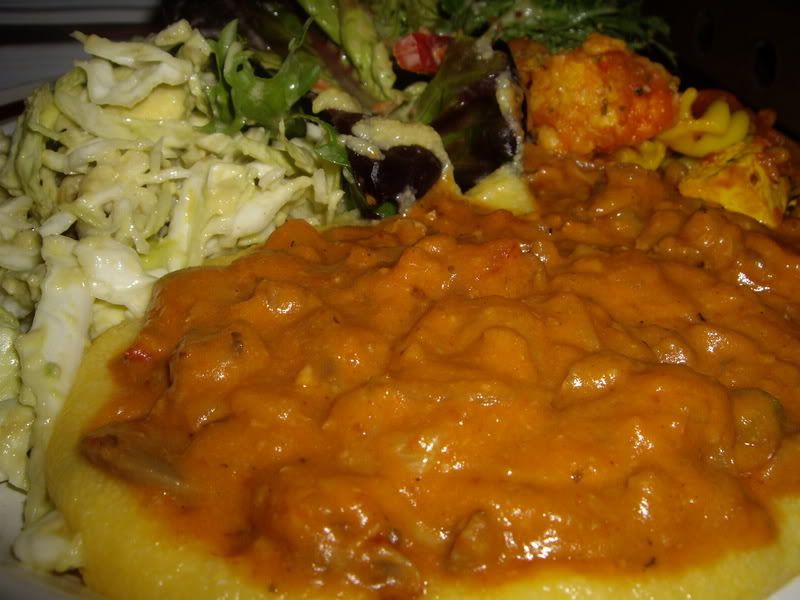 1 brown onion, roughly diced
4 garlic cloves, minced
half a mushroom bag of mushrooms (button or portabello) chopped
250ml of pasta sauce (any flavour)
1 cup of stock
1 cup of vegan gravy
can of Sanitarium tender pieces/tvp/seitan/meaty something
3 tablespoons flour
1 small container of hommus
paprika spice
salt and pepper
Heat some olive oil in a saucepan, fry the onions and garlic until soft, add mushrooms and continue frying until these are also soft. Add the cup of vegetable stock and put a lid on it, leave for about 20 minutes until the water has half evaporated, then add the cup of gravy (still quite watery), pasta sauce and also the flour. Add the meat sub. Mix it all up and leave to simmer for about a half hour or so, until it reaches a desired consistency. Before serving add the hommus and stir through, season with salt and pepper and paprika to taste.
Serve over anything from rice to noodles to cous cous to polenta to mashed potatoes to rice.